In 2014 Oklahoma leads the nation in seismic activity – even more than California. Since we wrang in the new year, Oklahoma has reported more than 200 earthquakes with a magnitude of 3.0 or greater. This new irregularity has people curious as to what is causing this dramatic increase in quakes. Two years ago they averaged two 3.0+ quakes a year, its increased to two a day. Many people believe its attributed to the increase in fracking and fluid injection from oil companies in Oklahoma, others believe its a combination of many things. But one thing is certain, Oklahoma homeowners must be prepared.
Somethings residents in Oklahoma experiencing earthquakes can do to protect themselves and their belongings are the following:
1. Move your bookshelves and other tall items away from couches and beds. Doing this will prevent them from falling on top of you.
2. Place heavier objects on lower shelves and in lower cabinets. Decreases fall and damage to other belongings or yourself.
3. Be sure any heavier and or taller appliances are secured and steady, like water heaters, washer-dryer stacks, and refrigerators.
4. Make sure you have your home covered with earthquake insurance so you don't fret over damage done.
5. During the quake, be sure to drop to the floor so you are not thrown to it, and hide your head and neck, or whole body if you can, underneath a sturdy table.
If Oklahoma homeowners are prepared for an earthquake, then they can prevent the quake from doing too much damage. Your local Tulsa moving company knows how valuable your home is to you, and we want to ensure you are prepared to protect it, even in the worst circumstances.
Sources: http://newsok.com/are-you-really-ready-for-a-big-quake/article/3942800
http://hereandnow.wbur.org/2014/06/24/oklahoma-earthquakes-fracking
If you are a parent of school children, the following news will make your kids' day! Tulsa's public school district has just approved an early release program which will enable school board members take advantage of faculty development time. With the exception of August, December, and May, every last-Friday-of-the-month will be an early release day on which students will enjoy mid-day departure after lunch. While students will love kick starting the weekend early, they will also benefit in the long run as teachers and staff will utilize the time to plan for improved scholastic achievement. This is one win-win scenario that your Tulsa professional movers are sure your kids will approve!
Your Tulsa movers are glad to see the boost in local economic activity thanks to the success of the Oklahoma City Thunder! The Thunder are set for the playoffs after taking down the San Antonio Spurs on Wednesday night's game and becoming the Western Conference Champions! Vendor tents and stands have been popping up left and right around Tulsa, which is great for the city as vendors purchase licenses from the city to conduct business. Aside from the boost in economic activity in Tulsa, your local movers here are also glad to see a boost in moral among Thunder fans! Thunder Fever is certainly something your residential movers in Tulsa here can get used to!
Don't expect the weather we saw last Friday in Tulsa to grace us with its presence this weekend, your local movers here are gearing up for harsh winter weather and possible snow! If you happen to be relocating to your new home this weekend with local Tulsa professional movers, you'll definitely appreciate the convenience the most reputable Oklahoma moving companies have to offer you; regardless of weather conditions! Even if weekend moving plans don't grace your schedule, you should prepare for a cold one! Bundle up, Tulsa, we're in for several days of below freezing temperatures and possible snow as well; your Tulsa professional movers hope you stay warm, and if you're moving with us, we know you will!

Sports and outdoors enthusiasts in Tulsa should consider attending one of Dick's Sporting Goods' three grand opening events all taking place the weekend of November 4th. Celebrating the first Dick's Sporting Goods locations in Oklahoma, the nation-wide sports and outdoors store is going to commemorate their move to the Tulsa and Broken Arrow areas in a big way!
Several big-name sports celebrities will be attending the weekend's events; Barry Sanders will be among the well-known athletes in attendance. There will also be a 3,000 gallon bass tank for fishing enthusiasts. For more information check out Dick's website, the weekend is sure to be loads of fun! Your Tulsa relocation experts sure are glad the Dick's is moving to Oklahoma!

Of all the ideal retirement towns there are, moving to Broken Arrow seems to be a popular option for retirees who live an exciting lifestyle. Broken Arrow is very retiree-friendly; the town has a 20,000-square-foot YMCA center with several programs intended for older active adults. For those who love the great outdoors, Broken Arrow boasts several beautiful golf courses as well as biking and walking trails. Recently, Broken Arrow has seen many one-story homes on the market priced in the low $100,000's. Affordable living goes well with affordable moving and storage services. Tulsa area movers are available to make your transition to Broken Arrow Oklahoma as stress-free as possible!
Your Tulsa movers are pleased to see that job availability is beginning to return to the local area. Within the last year, the unemployment rate has fallen to 6.4% which is the lowest it has been in over two years! As things are looking up in the local job market, many families have been moving to Tulsa in search of promising career opportunity. Your moving professionals here are always looking for talented individuals to welcome aboard. Moving to Tulsa soon?
For parents of college students, the urgent need may arise for a Tulsa area storage solution; especially during the school year. Convenient storage options are available for keeping your college student's belongings safe but out of the way! Climate controlled, secure units are available to rent on a month-to-month basis, and can even be prorated by the day to ensure a fair and convenient storage experience. Just think about all the possibilities there are for the space being taken up, de-cluttering with the help of your storage experts in Tulsa just may be your best bet if you're not getting the best out of the space your home has to offer.
"How did we ever get this couch in here?!" Have you ever found yourself saying this when the time comes to pack up shop and move to a new home? Your couch can be rather difficult to move when you can't manage to get it through the door! Furthermore; maneuvering a stubborn couch through a tricky doorway usually requires trial-and-error attempts which can cause damage to walls, door frames, and of course to the couch. To avoid damage to your home and furniture, your Tulsa moving professionals here always utilize durable quilt pad wrapping. In the instance of a tricky couch and doorway situation, quilt pad protection is wrapped around the couch and also applied to the edges of your doorway. Your moving team has moved enough times to be confident in our ability to navigate a couch through the trickiest of door and hallways; if it can be done, it will!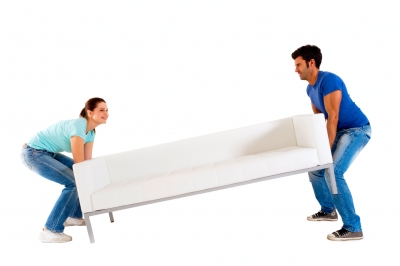 Slowly but surely, the economy seems to be improving nation wide. We have a long way to go, but scattered areas in the country are showing signs of economic and employment based progression, and Tulsa is one of the more notable examples.Tulsa's economy, job market, and average home value are ranked among the best in the country! Naturally, the healthy job market and economy makeTulsaa hot destination for families on the move. Professional Oklahoma moving companies in Tulsa are not only providing positions for the job market, we also provide relocation services needed to move to Tulsa from anywhere in the US.