Dinosaurs are coming back to life thanks to the Walking With Dinosaurs: The Arena Spectacular. However, they have made special early appearances in Tulsa this month prior to their upcoming show at Tulsa's BOK center.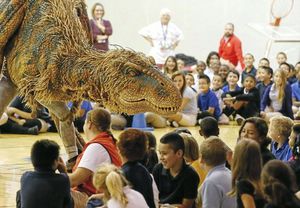 As Baby-T, one of the smallest life-like dinosaurs, stomped through gymnasiums such as the one at Sequoyah Elementary School, children could not help but get a closer look and reach for this captivating replica.
Baby-T, a one-man operated puppet, is only a small part of what you can expect at the Walking With Dinosaurs show. There are larger dinosaurs that tower over Baby-T and are a three-person operation. But do not let the fact that these are puppets fool you; these spectacular machines move and react freakishly lifelike.
Next month, the Walking With Dinosaurs show will be scheduled for three viewings, so be sure to jump on the opportunity quickly. November 11th there will be an evening show at 7:30PM and a 3:30PM showing on the 12th. The tickets range from $25 to $75 depending on how up-close and personal you dare to be with the large creatures.
The show at the BOK center presents 20 stunning dinosaurs from ten different species which were alive during the Cretaceous period. The dinosaurs are always being improved, as several paleontologists work to keep the dinosaurs looking as accurate as possible. Over the years, paleontologists discover new details; such as, the fact that dinosaurs were feathered. The new detail was added to this year's show in order to honor the dinosaurs in the best way they can. The lifelike dinosaur show is entertaining for all ages so bring the entire family to this extra special event.
If you are moving to Tulsa, you can expect to see several attractions and shows just like this one, being featured throughout the area. Tulsa is a great town, with several good schools that bring in new and exciting ways for students to learn, like through Baby-T and his show. Call All My Sons Moving Company of Tulsa today and get personalized advice on the best community in Tulsa to suit you and your family.